Home
/
AutoBrush® for Kids - Video Testimonials
AutoBrush® For Kids Reviews
The AutoBrush® For Kids is a new product that is starting to really help parents' around the world teach their kids healthy habits from a young age. Brianna Steele was like most moms out there, struggling with their children to get them to brush their teeth. That was until Brianna did a bit of research, eventually stumbling upon the AutoBrush®️ for Kids electric toothbrush.
Just like that, her son was ASKING to brush his teeth at least twice a day, dancing around the house to the brush's jungle beat! Not only does her kid loving his new oral routine, but it gives Brianna something to dance & smile about as well.
Just like Brianna, Aly saw the AutoBrush® for Kids and her daughter loved it. However, Aly wanted to put it to the test and decided to run a Plaque Test to see how it performed a bit more scientifically.
Just as they expected, the AutoBrush®️ for Kids eliminated most of Mia's plaque, leaving her mouth clean instead of pink!

Abby is a six year old girl who lives with Cerebral Palsy. CP affects all aspects of Abby's Life. Tools like AutoBrush®️ for Kids help her increase her independence.
Seeing Abby thrive & love to brush her teeth on her own really makes us proud of the work we do here at AutoBrush®️ and how our products help people in their every day lives. We love the work we do with Emily and her children to make sure we keep developing AutoBrush® for Kids to give amazing kids like Abby the confidence to thrive!
We've had many other's sing their praises for AutoBrush® for Kids. Here are a few more of our favorite reviews from customers just like you!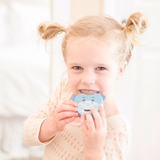 The AutoBrush® has created better brushing habits for our family in just one week. My 4 year old wants to brush her teeth several times a day now, and can do it on her own. Teaching her good hygiene and responsibility. But even better it's a hippo, which we all know she loves 😉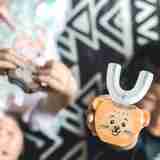 My kids loved it! Finally brushing their teeth is easier than ever (and they don't even fuss about it!) made with safe materials, safe toothpaste, and effective
It plays music and cleans well. They also have different sizes to fit your kids needs. It's fun, clean. and most importantly safe. The kids look forward to brushing their teeth now and even ask if it's ok to brush more than twice a day! #winning