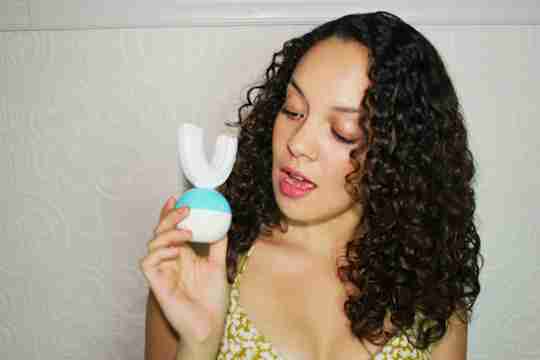 AutoBrush V1: The 360° Toothbrush That Pumped Toothpaste
In April 2019, we created a product we believed would set the groundwork for AutoBrush. 
The first iteration of our product (simply called the V1) was designed as a mouthpiece toothbrush with only one cleaning mode. We worked closely with our manufacturer to design a mouthpiece that would wrap around all of the teeth at once. 
We used silicone bristles because they are softer than traditional brushes, and we wanted to design a product that would make brushing accessible for all, - in just 30 seconds. 
At the time, there was only 1 brush head size. Later, we worked closely with our manufacturer to develop intermediate sizes for kids. 
Our V1 was marketed primarily to adults. We hadn't developed a kid's design that had the familiar characters you see today (Lenni the Lion, Ziggy the Zebra, Harley the Hippo, and Mattie the Monkey)! 
This was a cornerstone of the progression of our brand because we realized that many parents struggle to teach their children to enjoy brushing. Our early adopters voiced their opinions and wanted a toothbrush that was designed to be more kid-friendly.