How Out Of Pocket Dental Service Costs Are Rising Faster Than Physician Services
SEP 22, 2020 POSTED BY: ATUL SHASTRY
We all get nervous about going to the dentist. With the rising costs of healthcare in general, it's easy for us to place oral care behind other physician costs. In this article, we'll be discussing some of the primary reasons behind people's choices not to visit the dentists more frequently and some of the costs associated with it.
Why exactly are people afraid to go to the dentist?
In a recent study that was done to demystify this exact question, here were some of the top reasons that people chose to explain why they are hesitant to go to the dentist. Of the 14,692 respondents that were surveyed, here was the breakdown of those reasons.
Cost — 59%
Afraid of the Dentist — 22%
Inconvenient Location and Time — 19%
Trouble Finding a Dentist — 15%
No Original Teeth — 12%
No Perceived Need — 10%
No Reason / Other: 19%
Source: https://www.statista.com/statistics/699622/reasons-for-not-visiting-the-dentist-us-adults/
So what that tells us is more than HALF of the respondents answered that they avoid the dentist because of the cost associated with getting their teeth cleaned.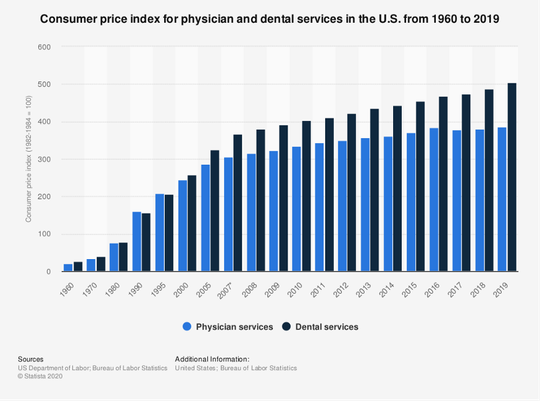 So... How much does it cost really?

In the last decade alone, the average costs of dental services have risen by nearly 125%. That's a huge difference and physician services are not far behind (boy how nice would it have been to live in the 60's!). With that being said you can expect to spend on average this much with insurance:
Kid's Dental Checkups: $65–$100/checkup 2x/year
Adult Teeth Cleaning and Checkup: $150-$250 2x/year
Adult's Deep Cleaning: $500–$900/year
Adult's Basic Restorative Care (including chipped teeth, fillings etc): $500-$750/year
With a family of 4 (2 children) you can expect to budget anywhere between $2,860 to $4,700 annually. That's a lot of money to spend on basic oral health care. Today, we find that we're afraid to spend thousands of dollars in oral health care visits because of these rising costs. So what can we do to lower those costs?

What are some ways to save money on oral health costs and at home?

Space Out Dental Check Ups:

We've all heard that we need to visit the dentist at least twice a year. There isn't much evidence though that supports that claim. Non smokers who are in good health can benefit from just visiting the dentist once a year. People who smoke or have other risk factors such as diabetes and obesity are more prone to gum disease and may need to see their dentists more than just twice a year

Avoid unnecessary treatments:

If you're wondering whether or not a dental procedure is necessary, ask. If you haven't had dental cavities you only really need a dental X-Ray once every 2–3 years

Try community health centers or dental universities:

Both frequently offer low-cost dental care, the latter often provided by dental students who are supervised by faculty members. You can search for a center or school near you at toothwisdom.org.

Practice Excellent Oral Hygiene:

I know this ones seems obvious, but brushing twice per day with toothpaste as well as flossing daily will go a long way to ensure your teeth remain well cared for.

Look For Warning Signs:

Sensitivity in the teeth, bleeding in the gums and troubles/pain eating are usually signs that you need to discuss with your dentist. Noticing these early on can prevent larger dental costs down the road
So, what's the verdict here?

The verdict is that while going to the dentist is still important, there are ways to plan for it in advance so the annual costs aren't nearly as high. At AutoBrush, we create products that helps you save more by offering dental-grade whitening at a lower price. One whitening treatment can save you upwards of $300. Have any other tips? We'd love to hear from you ❤